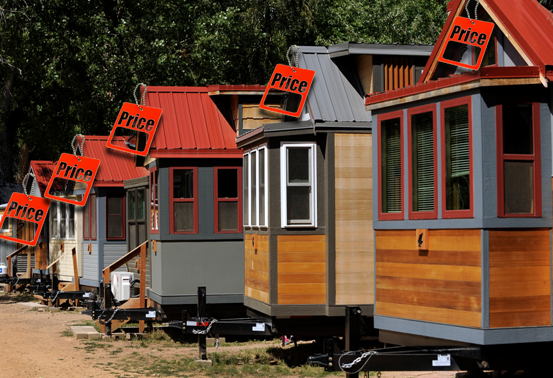 From cars to houses, making a large purchase comes with big commitment. No matter what two people you ask, you will likely get different responses on the how to's of making this financial decision.
Buying or building tiny does come with its own caveats that differ from the traditional home buying or building process. While they share some similarities, everything from price to the build itself can vary. So here are five things to watch out for if you plan to buy used and why we recommend building instead.
Trailer
When building a THOW (Tiny House On Wheels) you aren't just building a trailer to haul wood or even farm animals. You are building a home that will carry for family and that must have the ability to be safely moved from one location to the next.
The quality of the trailer should be taken into consideration every bit as much as the house itself. Buyers should beware of rust, pre-used trailers, the length, the axles, the number of tires, as well as how the home is affixed to the trailer. This shouldn't be taken lightly and should be thoroughly inspected by a professional.
Appliances
This is maybe the biggest area where THOW builders can cut corners to fit a house into a buyer's budget. This doesn't mean they outfit a home unsafely, it just means a buyer may choose to downgrade the brand name or the size of something in order to fit for space or financial restrictions on the build.
For instance, a popular THOW might come standard with an apartment refrigerator and an electric cooktop. An upgrade would be a residential fridge, a propane or electric full-sized stove, or the addition of a dishwasher or washer/dryer. These are easy things to cut out when wedding the list of wants into needs for a budget-friendly build.
Plumbing & Electrical
For these to be installed safely, just as in a traditional house, they must be done correctly and [usually] by a professional. Cutting corners and DIY-ing this step could be disastrous. If you are buying used, you can never be sure of what is behind the walls. While we love to be trusting of our beloved tiny community, there are still dishonest people out there. Please have anything used professionally inspected before buying.
Insulation
Another area of great debate in the tiny house community is how to keep their house warm. Buyers can choose everything from recycled denim to organic wool, spray foam or the traditional pink panther rolls of your average Joe construction supply store. The cost on some of these materials can skyrocket the overall price tag on a new or used tiny. Be sure you are getting what you want and researching the longevity and R-value of your product.
Materials
Consider everything from siding to windows, counter tops to storage. All of these variables will weigh in on the overall hauling rate (weight) of your THOW, the safety when traveling, and the overall durability. If you plan to move a lot with your home, you might consider tempered windows to withstand whatever the highway might throw at them. If you will be in below freezing temps, you need to upgrade to double paned. cedar vs vinyl siding is also a consideration.
Do your research or employ a professional inspector who is familiar with THOWs if you plan on buying used.
So Why Do We Recommend Building New?
Like anything else, you can't know if you are getting a lemon until you're stuck with it. You can't simply return a house because you found things you didn't like. As any home buyer knows, a month into the purchase, you will still be discovering things you were blind to when you were just excited to make the purchase.
This is a house. For many, this is forever. Building tiny homes can range from $10,000 (DIY, kit build, and basics) to upwards of $140,000 (for top-of-the-line and customized all inclusives). However, if you compare this to just single family, entry level stick-built homes, you are still saving tens of thousands of dollars. So do this the right way so you won't end up regretting your purchase. Find a reliable builder, and plan for your dream home.
Are you on Facebook? You can check out more of our tiny living adventure HERE.