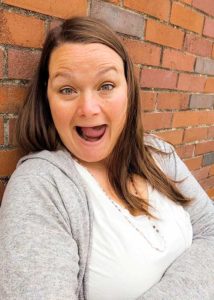 Dang, I'm glad you're here.
Listen, no matter what you read about me on the internet, I am just a regular person who wears yoga pants to everywhere but an actual yoga class and who forgets the coffee they put in the microwave to reheat for the 4th time.
I am a wife, an extreme parent to a wild toddler and a pre-pubescent boy who happens to have five behavior diagnoses. I am a lover of naps and reading in my hammock and of coffee that is mostly comprised of creamer. I laugh with my mouth wide open and I do my best to live a life that shows others kindness because teaching kindness to my kids is really hard when I am yelling out the window at the Karen who just cut me off in traffic.
As a licensed teacher in two states, specializing in differentiation for the difficult learner, I pair my 20+ years of experience as a mental health professional with my education background to create resources and build community where extreme parents like you and like me can have a safe space to learn and to grow together because, sister, I am in the trenches with you.
About five years ago, I decided to turn what was quickly becoming my parenting prison into my passion.
The last three years, I've traveled across the country speaking to community organizations, churches, staff trainings, parents, and educators about how to better serve our inclusion population and how to parent peacefully while saving your sanity.
I am the Best-Selling author of Simple Living Right Now: Reducing Life's Chaos and Reclaiming Joy which talks about the benefits of simplicity for mental health and our family's journey living tiny for nearly three years as a strategy to reduce overstimulation for the mental health and anxiety of both myself and my son. As a national speaker, educational resource creator, and parenting coach for extreme parents raising children with behavior diagnosis, I am a proud advocate for my child and others like him and encourager of the weak, the worn, and the weary parents who are on the front lines with me.
Our life seems crazy to most onlookers, but we are just a regular family doing everything in our power to allow our children to excel academically, to experience culture, to go on adventures, and to live a life of joy without losing our flipping minds.
And, friend, I am seriously so glad you're along for the ride!