Mama, get on the sled.
I know. I know.
You have an endless list of to-do's, to-clean's, and to-pick-up's.
I do, too.
But I promise those dirty dishes and un-bought groceries will still be there when the snow pants and wet boots have hit the floor.
One of my favorite childhood memories was the one time my mom took us sledding. She did that more than once, of course, but this time SHE went down the hill…
Head-first,
Squealing all the way,
And ramped off an embankment breaking her glasses straight into her forehead.
But y'all, WE. DIED. LAUGHING.
All of us.
My mom, usually busying herself with laundry and work, crossing off to-do's while packing lunches and making sure we had an extra layer of warm clothes, put all that mess aside for one afternoon that ended with a trickle of blood from her eye and broken prescription glasses…and it was THE. GREATEST.
Because my mom was present–right there in the moment–not noding and shooing us outside to play. She was there with us, beside us, and racing us down the infamous face-breaking, mountain of an ice hill.
And my brother and I will never forget it.
I don't remember how shiny our dishes were, or any home cooked meal she made, or how neatly our towels were folded… But I remember that day on the snow-covered hill.
Now, I'm the mom.
I'm the one with the to-do list on repeat,
the pick-ups and drop-offs,
the mountain of dirty dishes,
the sibling arguments to negotiate,
and the bills to pay.
But I can be the maker of meals tomorrow.
Today, friend, I got my butt on that sled!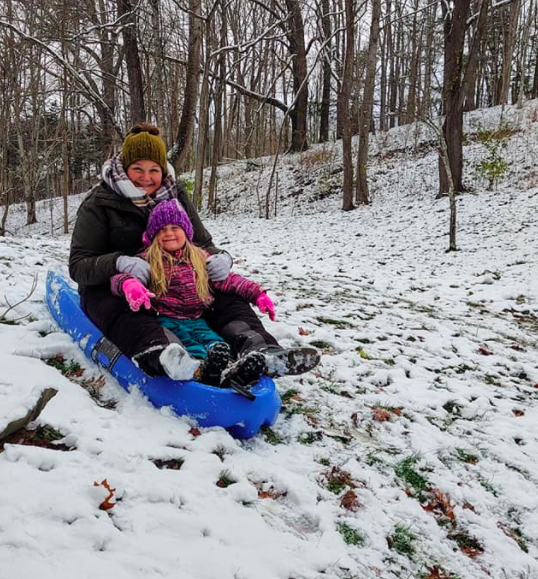 This butt that's now long and I tucked my muffin top neatly into snow pants I hadn't worn in years. My mom bun sprung out of the top of my beanie, and that little boogie board we used in place of a sled never stood a chance under this post-baby bod.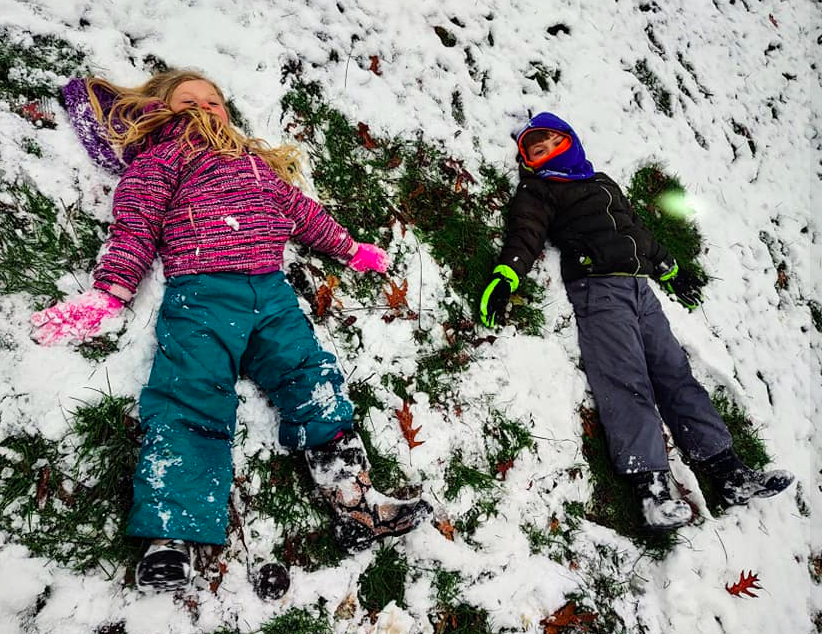 But, sisters, my kids laughed and squealed as I hurled my whole self allll the way down our hill. We rolled around making snow angels, they heaved snowballs at my back–tag teaming me as I snuck up and snow-tackled them both because mommy takes no prisoners!
And we came inside for chocolate milk and marshmallows because my kids are the only people on the planet who hate hot chocolate. I warmed my coffee for the 37th time that day and smiled as I stared at the pile of snow clothes that were sopping wet and covering our back step in a heavy heap of memories made.
The laundry was worth the laughter.
The mom-bashing was worth the moments.
The extra time was worth the extra snuggles.
I promise.
We might not be kids anymore, but our little ones are…and only for a little while longer.
So step away from the stove, put down the phone and the work and the laundry and pull up your snow bibs, mama.
You won't regret it.
-B.
**Grab my resources, books, and merch: https://www.themamaontherocks.com/shop/
*Follow me on IG
*Join Our Community