[et_pb_section bb_built="1″][et_pb_row][et_pb_column type="4_4″][et_pb_text]
Dear Momma & Papa,
I want you to know that it will be okay. Dear God it doesn't feel like it will, and it feels like you are about to break. But it will be okay. I promise.
This thing you are doing, raising your extreme child with behavioral issues, it's the hardest thing you'll ever do. Harder than breaking up with your high school sweetheart, and harder than getting that college degree. Bloody hard.
But you'll get through. You'll survive, even when you don't want to anymore. And you'll do it because the love you have for your child is bigger and stretchier than any love you've ever witnessed before. It's actually quite unfathomable.
How do I know this? I've witnessed it. I've lived to tell the tale.
A Traumatic Childhood
Forty years ago I was adopted into a loving home with parents who desperately wanted children and couldn't have them. Less than two years later they adopted their second child, a boy. A family – complete. Happy.
I don't remember the first time my brother 'acted out' but I know he was a toddler and I know it probably looked very similar to a 'terrible two tantrum'. I don't remember the first time my parents took him to our doctor, desperate for help, but I do know they didn't get it.
I also don't remember the first time he was physically violent or the first time I hid in my wardrobe crying. But I do remember the time he ran around the garden with an ax, threatening to chop us up.
I remember the night he screamed and yelled at my mum, thrashing out with all his limbs. Barely a teenager but towering above us now. I remember his maniacal laugh when I tried hitting him back, and the time I blacked out after he threw me against the bathroom vanity.
I remember all the times I would call the police. Someone help us, please. I remember the times I tape recorded the explosions because it seemed like no one believed the horror show we were living.
And there are a million memories that are gone forever as my mind went into protection mode and saved me, many times over.
And I remember the day he was finally removed from our home. My parents weren't equipped to deal with a child with extreme behavioral issues. But they did their absolute best for longer than they needed to. Why? Because of unfathomable love.
She'll Be Okay
If you are raising an extreme child with siblings, I want you to know that he or she will be okay. I know you lose sleep over her most nights, praying to God that she won't be deeply affected by living in this chaos.
Can I be honest? She will be deeply affected by it. She will cry and she might hide in her wardrobe just like I did.
But she's a survivor, just like you. And she won't just survive dear mama, she will thrive.
The odds were stacked against me. Genetically wired for anxiety and depression, and raised in an environment that allowed those traits to grow.
I could have numbed myself with alcohol and drugs to deal with the emotional battleground of my childhood (and I did for a number of years). But I persisted. I survived.
I went on to get my masters in psychology, and to marry a wonderful man and have two beautiful children of my own. And most importantly, I went on to discover that I didn't have to accept the life I was being offered by my genes and early environment.
I survived, and then I thrived.
How? A few key things helped me;
Dogged Determination
Along with the traits for anxiety, I also came with a stubborn streak. And over the years, I have learned to mold this stubbornness into more of a dogged determination. I refuse to let my genetic and environmental predispositions be my boss.
The trauma I experienced as a child is enough to warrant me being a stereotypical 'basket-case'. But I want to own my life. I don't want to blame my past for my faults. I want to use my past experiences to define a wonderful life that can help others who have been in similar situations.
So I have become more deliberate and intentional with my choices. When life is hectic and I have too much on my calendar my anxiety rears it's ugly head. I am choosing a slower and simpler pace of life because I'm determined not to let anxiety rule me.
Self Acceptance and Self-Care
I accept that a complex set of genetic and environmental variables has made me a complex individual. But rather than blaming these predispositions, I choose to own them. I like to explore them and figure out how we can do life together.
My anxiety goes hand-in-hand with high sensitivity and introversion. I'm sensitive to loud and sudden noises, I'm easily overwhelmed by chaotic environments, and I don't like scratchy fabric. And alone time is crucial for me.
Figuring out ways I can safely self-medicate has been an important part of the process from survival to thriving. Quiet time, in calm predictable environments, are one of the best ways I can look after myself. My favorite second-hand bookshop or running trail are like soothing balms for my soul.
I learned to look after myself at a young age because most of the time my parents were just too busy trying to deal with my brother. But this was to my benefit. It taught me the importance of knowing how to self-soothe and take care of my basic emotional needs. I'm so grateful for that.
Unfathomable Love
And lastly, I learned the most important lesson from my parents. What they dealt with, the many hard years of living as abused parents should have meant they gave up. But they didn't. They loved so strongly and hung on for dear life with a deep, unwavering, unfathomable love.
The way they 'stuck it out' taught me that love truly can conquer. It taught me that love is an essential element to any problem we want to solve. Without it, we will fail.
Without this unfathomable love, I wouldn't be the person I am today.
And while I wouldn't wish my childhood experiences on anyone, I'm so incredibly grateful that they were a part of my journey because I know I am the person I am today because of them.
You, my dear momma and papa will survive and thrive. And your other babies will do the same. Some days (most days) it won't feel like that. And you'll feel like you want to quit. Please don't.
The world needs you and your families strength and story.
We are with you xoxox
[/et_pb_text][et_pb_team_member admin_label="Guest Author" _builder_version="3.19.10″ name="Emma Scheib" position="Author" facebook_url="https://www.facebook.com/simpleslowlovely"]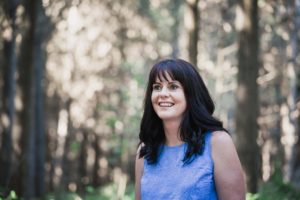 Emma Scheib is a self-confessed introvert who recently gave up her 'dream job' to pursue being a (happier) mum, living a slower pace of life. She is passionate about spreading the word about the benefits of slowing down and simplifying.  She writes regularly over at Simple Slow & Lovely, and you can also connect with her on Facebook and Instagram.
[/et_pb_team_member][/et_pb_column][/et_pb_row][/et_pb_section]